Dental Implants And Its Purpose
Dental implants are artificial tooth roots inserted into the jaw bone to replace missing natural tooth.  Implants and their attached crowns close closely mimic the look and function of real teeth. Dental implants can replace one or several missing teeth.  In some cases they can be used to replace the entire dentition with set of artificial teeth on dentures supported by implants.
In the last few decades, technology in the make and use of implants has advanced tremendously. It is soon becoming the most widely used mode of treatment for missing teeth for its superior qualities over bridges and dentures.
Implants prevent bone loss of the jaw, prevent formation of hollowed of collapsed cheeks that occur mostly after loss of teeth, help withstand greater bite pressures than bridges, prevent gum recession, do not require cutting of existing natural tooth structure of the neighbouring teeth like in bridges and can be looked after by regular flossing and brushing just like natural teeth. They also feel more comfortable as they are firmly secured in the jaw bone.
When a tooth is removed, the gap in the jaw can limit one's chewing ability. To further complicate the issues, the teeth next door and opposing tooth can grow into the missing tooth's space, messing up the normal biting altogether.
A dental implant is a restoration designed to replace the missing tooth without any damage to the adjacent teeth. It consists of a medical grade titanium alloy base embedded in the jaw bone, with a dental crown fitted on top of it.
It mimics the aesthetic and function of the natural tooth. For whatever your reason that your tooth is loss, consult with your dentist whether dental implant is suitable for you.
In suitable candidates, this procedure can also be used to also replace a whole arch of missing teeth. No more loose dentures.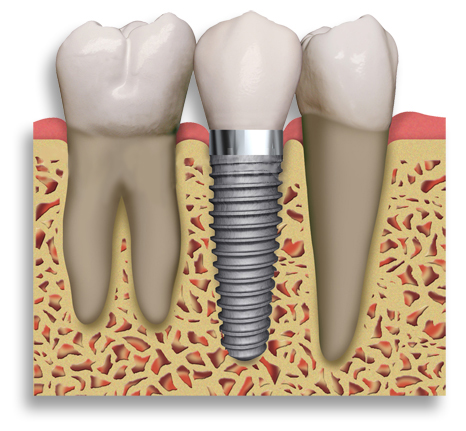 What are the benefits of dental implants?
Restores the look of your smile in a natural manner that does not cause any compromise of the surrounding teeth;
They can help to preserve the remaining jaw bone structure, such that the jaw bone where the missing tooth is does not deteriorate.
Enables you to regain your ability to speak and chew and also helps to reduce the likelihood of future infections or gum problems.
What are dental implants made of?
The Dental Implants that Civic Gentle Dental Care uses are made of commercially and medically pure Titanium. This is the same metal that has been successfully used in hip replacements, tried and tested for many years.
Feel free to call us on (02) 6247 0224 or email us info@civicgentledentalcare.com.au if you have any questions regarding your dental health or dental treatments. Our doctors and staff are happy to help.
Don't forget to see our Smile Gallery HERE!
Driving directions from Casino, Canberra going to Civic Gentle Dental Care takes only about 5 minutes. Head southwest on Allara St toward Nangari St and turn right onto Constitution Ave. At Vernon Cir, take the 2nd exit onto Northbourne Ave/A23 then turn right onto London Circuit where we are located on the left.