Dental Implant Specials in Canberra
Website Offer: Save up to 10% with our Implant Crown at $3300 each*
We offer a competitive rate for implant crowns of $3300, and advice on the implant system and implant crown material required for your specific case will be available upon consultation.
*Does not include bone augmentation/grafting treatment, or soft tissue surgery which may be necessary to improve the function or aesthetic of the implant restoration. For procedure that requires specialist care, a referral will be made to one of our trusted specialists, or one preferred by you.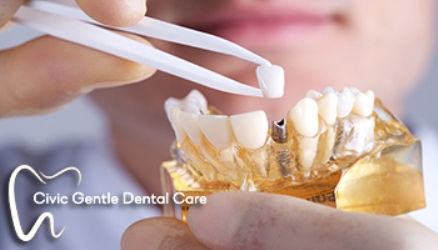 Royal Australian Mint going to Civic Gentle Dental Care takes about 9 minutes to drive. Head north and turn left onto Denison St then another left onto Kent St. Continue onto Novar St and at the roundabout, take the 3rd exit onto the Adelaide Ave ramp then merge onto Adelaide Ave. Keep right at the fork to continue toward Capital Cir/A23 and keep right at the fork, follow signs for City Center/A23/Tourist Drive 5 then continue onto Capital Cir/A23. Finally, at Vernon Cir, take the 1st exit onto Northbourne Ave/A23 and turn right onto London Circuit. Our dentistry is located on the left side.
Home – CivicGentleDentalCare