Dentist Near Me
Civic Canberra is a vibrant city where people of all ages and all walks of life gather in search of entertainment, relaxation, work, school, different services, and for just about anything. And at the heart of Canberra CBD is Civic Gentle Dental Care where high standards of dental services and affordable yet excellent dental care are a commitment to uphold.
Canberra Dentist: Civic Gentle Dental Care
Fortunately for Canberra locals and visitors, it is no longer hard to look for "Dentist Near Me". Looking up dental services and their location is as easy as ABC and results to your search will come up in no longer than 10 seconds.
However, it is important to sift through the numerous dentist near Canberra. Checking their available dental services is the first step to ensure that your time and your visit are maximised.
Civic Gentle Dental Care prides itself in being a one-stop dental clinic for all your dental concerns while being located at the center of the city. This allows us to provide quality care within reach for the majority of Canberra's growing population.
Next is to check the dental team and staff as well as the environment of the dental clinic. At Civic Gentle Dental Care, our professionals are trained to address your dental concerns while using a dental treatment plan as a guide.
Civic Gentle Dental Care Location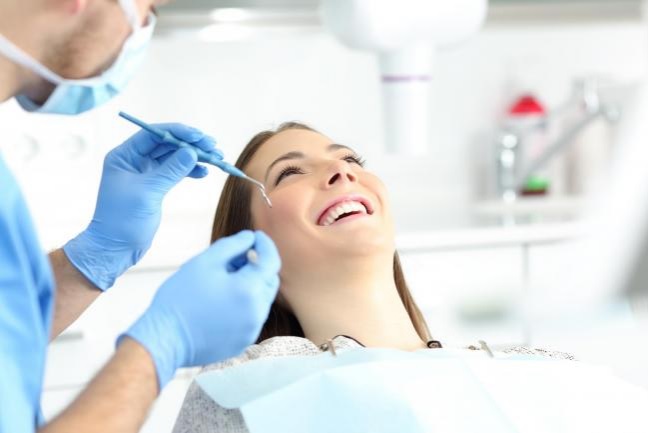 Our clinic is proudly made accessible to all. While it is easy to look up the location of most services available online, we made sure that our quality dental care is conveniently situated for ease of visit. To help you with your visit to our clinic, here is a guide for your reference.
Commuting is not a hard feat if you want to visit our clinic and experience the state-of-the-art dental services from our friendly dental professionals. Several public transportations are located within the vicinity and are perfect for those located outside the CBD.
With just a 1 to 4 minute walk, patients from nearby bus stations such as City Interchange Plt 11 Arrivals, City Interchange Plt 11, City Interchange Plt 3, Legislative Assembly London Cct, City Interchange Plt 9 Arrivals, and City West Alinga St can visit Civic Gentle Dental Care.
For visiting patients who will walk to our clinic, we will use City Hill as our landmark and starting point. From City Hill, Civic Gentle Dental Care is a good 8-minute walk. Exit the Vernon Circuit through Northbourne Avenue, then take a right to London Circuit and head straight to 161 London Circuit.
The same route is advised for patients who will drive to our clinic. This travel is no more than 1 kilometre and will take around 5 minutes.
By train, our clinic is also easily accessible through the Alinga Street Light Rain Station. From there, head to Northbourne Avenue/A23 and exit at London Circuit. You can find our clinic building just straight ahead after a short walk.
Civic Gentle Dental Care Landmarks
The prime location of our clinic makes it easy for locals and visiting tourists to visit our dentist Canberra. Being surrounded by city landmarks, entertainment centres, and recreational spots, our patients can enjoy a good dental experience and after their visit, be able to spend their leisure time in these places.
Located in the heart of the City, Civic Gentle Dental Care is within the vicinity of easily locatable landmarks such as the City Hill, City Walk, Canberra Museum and Gallery, Civic Square, Canberra Centre, Canberra Theatre Center.
If you are having a hard time locating our clinic, do give us a call or visit our site to book your appointment.
Dentist Near Me