It is good to hear that people today are given a variety of options with regards to dental treatment. This in turn makes it possible for just about anyone to be able to find a particular dental procedure that will be able to cater to their tastes and preferences.
Braces and Invisalign for example, are common procedures that aim to remedy misaligned teeth. So what's cheaper braces or Invisalign?
Cost is always something that comes to mind when choosing a dental treatment. When comparing Invisalign vs braces cost, braces usually comes out on top with it being the less expensive of the two.
Follow up checkups for braces is done about every month while on the other hand, Invisalign requires their wearers to have their aligner trays changed every 2 weeks.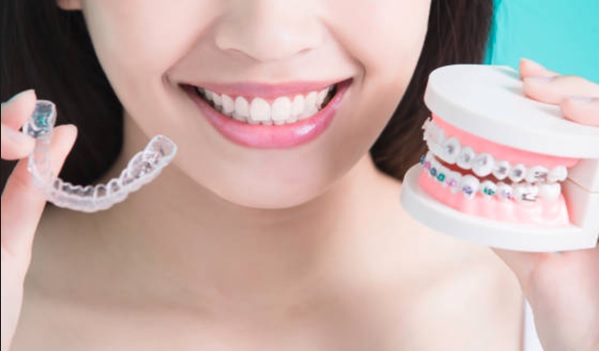 Even with their cost, a number of individuals feel that they are paying for convenience with Invisalign price in Canberra as it provides a number of features that are not typically present with your traditional metal braces.
Aesthetic for instance, is something Invisalign braces has with its clear/invisible look making them harder to spot. Invisalign also has less issues with it being easily removable which allows for a more convenient way of eating.
Furthermore, Invisalign in Canberra also provides huge comfort to their wearers by not having any form of wires attached to your teeth. It should be noted that you can get cheap Invisalign when you decide to get them as early as possible saving you more cost in the future.
Invisalign Cost vs Braces Cost in Canberra
Cost of Invisalign in Canberra is around $7,000 – $9,000 whilst traditional braces cost around $5,000 – $9,000 depending on the complexity of your teeth. Orthodontic treatment is expensive so it is wise to search around Canberra and see which dental practice offers the best deal for either Invisalign or traditional braces.
Price of Invisalign at Civic Gentle Dental Care
At Civic Gentle Dental Care, our orthodontic treatments are cheaper than most dental practices in Canberra. We have Invisalign packages available to choose from that best suits your needs. We have Express Package for $4,100, Lite Package for $6,490, Moderate Package for $7,290 and Comprehensive Package for $7,490. We also offer internal payment plan making it easier for you to pay. For traditional braces, our other dental branches around Sydney: Hornsby Dental, Sydney CBD Dentistry and North Ryde Dentistry are able to provide you with this type of treatment. Their braces cost from only $4,500 – $6,000+ depending on the severity of your teeth.